Reward yourself
Packages for every taste!
An unbeatable choice!
Upon your arrival on Île au Canot, once you've gotten comfortably installed with your family or friends, you'll have the enjoyable sensation of finding yourself in a very special place. This island inspires relaxation, comfort and fulfilment. Whether you're looking to hit the island's trails at daybreak, or to hear the calls of rare birds or enjoy the magnificent sunsets, you'll leave with a feeling of well being like you've never felt before.
Take the time
Offer yourself a special occasion with our Lodging Package, that includes accommodations in the main residence that can accommodate up to 10 persons.
Take the time to breathe, to discuss, to listen and to share some unforgettable moments with your loved ones with this package at Île au Canot!
Rates:
Weekend: from Friday to Sunday or Saturday to Monday: $2,900 + taxes, includes round-trip transport
Week: 5 nights/6 days: $5,400 + taxes, includes round-trip transport
Week days: 2 nights: $2,600+ taxes/night, includes round-trip transport
Build business relationships
Experience a special moment with our Business Package, which includes accommodation in the main house, which can welcome up to 10 people.
Take the time to relax, chat, brainstorm, and share unforgettable moments with your colleagues
Live your passion fully
Enjoy a unique hunting experience on Île au Canot. The Hunting Package includes accommodations with a magnificent view of Isle-aux-Grues in an inviting and comfortable residence, where you can taste gourmet meals prepared by our head chef. This residence can accommodate up to 10 persons.
5-day package– American plan*:
Price per hunter: $600/ day+ taxes
Price per non hunter: $300/ day+ taxes
Price for a full and exclusive stay with 6 hunters: $18 000 + taxes + $300/ non hunter per day + taxes
Pheasants killed or wounded are invoiced at the end of the stay at $20/unit.
*Maximum of 6 hunters and 4 non hunters (possibility of matching one or more groups of people).
A hunting exclusive
Whether you're a beginner or experienced hunter, the Pheasant Hunting Package offer yourself the excitement of a thrilling hunting experience! Île au Canot offers a unique hunting experience, combining challenge, ability and fun, all in an enchanting natural surrounding in the middle of the Saint Lawrence River! You'll also get a chance to meet Sam, our adorable working hunting dog. If you wish, you're welcome to bring your own dog.
This 6-hour package includes:
The crossing from Montmagny to Île au Canot, in the morning, according to the tide;
An introduction and directives provided by your guide;
A hunting party, with hunting dog, along the trails;
Relaxation and a picnic in the afternoon.
Rate:  $800* + taxes (for a maximum of 4 hunters)
* $24 per pheasant killed, ready to carry, will be added to the base rate.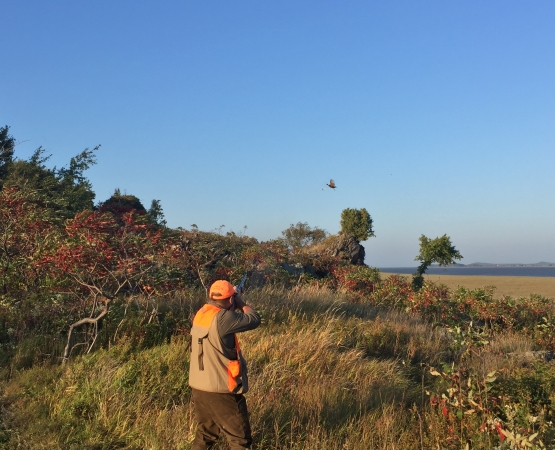 With your package
Treat yourself to a multitude of activities during your stay!